Gail's family was poor but rich with love. When her mother was in the hospital giving birth to the youngest child, their house burned. Before leaving the hospital, Gail's mother was diagnosed with cancer.
When her mother passed, Gail and her siblings went to stay with their family, eventually living at her grandmother's house. Although warned that this was not a good decision, Gail's father felt it was his only option. However, it was nearly fatal for little Gail. Her father—her hero—saved her in the nick of time.
The Welfare Department soon removed Gail and her two younger siblings and placed them in foster homes. They were ultimately placed at Childhaven, an orphanage for fortunate children.
Despite great sadness and pain in their early years, Gail and her siblings grew up to be strong, loving, and faith-filled adults. But those early traumatic childhood events weighed on Gail's body, mind, and spirit until she was in her forties. Finally agreeing to seek help, she started seeing a Christian counselor. That was the beginning of her healing journey.
No matter how much hurt you've endured, there's always a path to healing and wholeness. In Fleecy Clouds: One Woman's Story of Surviving and Thriving after Childhood Abuse, Gail's story is evidence of the resiliency of the human spirit, the power of love, and the never-ending mercies of a loving Father.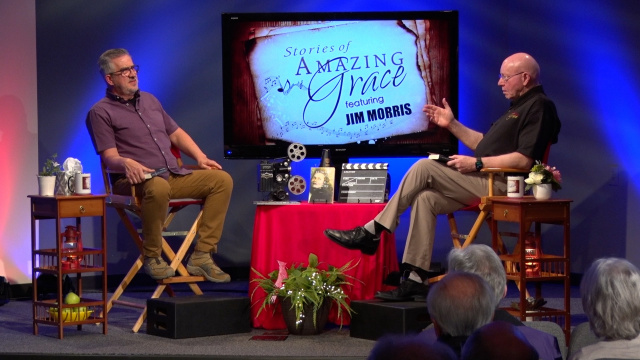 Jim Morris
"Flawed Houses of Four Seasons"
A Memoir
Internet Viewing - 6:30 PM
June 7, 2023
Facebook & YouTube
Believing life events happen for particular reasons and that people are brought together for specific purposes, my search for truth cannot be left to chance. My search has two distinct prongs. One prong was searching for God and making sense of boundless love. God sprinkled my young life with a host of Christian people – people I did not necessarily recognize as significant at the time of our association. The other prong is my response to unexpected life events regarding my paternity. My choice is to be as open as possible to whomever and wherever the search leads.
At the same time, recognizing how tremendously blessed I am to have weathered many storms. God's Amazing Grace in the midst of those storms led me to make decisions resulting in life altering consequences.
The trajectory of my life could have taken so many wrong turns. I am grateful it did not, but heart strings remain tied to a past – one never truly severs all connections to the past – my past and present are with me every waking moment. Every time I see the numerous names in my DNA lineage, I see my past but also potential future. Perhaps a potential future that will interweave one day with new people or just a single person to add another piece to the puzzle to aid in molding me into the individual I am becoming.
I remain a student of God's grace, and recipient of boundless love. His infinite faithfulness always provides at just the precise moment it is most needed – my entire life span is a testimony to that statement. Is that not Amazing Grace?